With a cutting width of up to 60 inches, a zero turn mower makes it easy to trim large yards, particularly those with thicker grass that would otherwise be tedious to mow using a push mower. However, the best zero-turn mower for you varies depending on the incline, landscaping, and size of your yard.
Whether you're a landscaper who services golf courses and large estate, or simply someone who wants a residential mower, keep reading for shopping tips. This in-depth buyer's guide will help you get a better understanding of zero-turn mowers and help you get the right machine that is perfect for your needs.
What are Zero-Turn Mowers?
Unlike other riding mowers that need 18 to 30 inches for a turning circle, zero-turn mowers circles easily without the need of turning in an arch. This way, the mower turns fast, and you don't really need to readjust the cutting line.
Zero-turn mowers provide plenty of comfort and ease of use when mowing, which not only helps reduce operator fatigue but also helps the user achieve that perfect cut.
However, zero-turn mowers are not the best choice for people who have lawns that are under 2 acres in size. They are mostly designed for professional landscapers who need a durable mower for use during the week.
Let's take a look at the top zero turn mowers reviews, chosen for affordability, efficiency, and overall value.
Are Zero Turn Mowers any better?
1. Husqvarna MZ61 Zero Turn 27 HP 61-Inch Lawn Mower
Husqvarna MZ61 61 in. 27 HP Briggs & Stratton Hydrostatic Zero Turn Riding Mower
Husqvarna 61 in. zero-turn lawn mower from the MZ series delivers commercial-grade power and amazing...
27 HP Briggs Endurance engine provides reliable startups and high ground speeds
Fabricated 11-gauge steel cutting deck offers an excellent 54 in. cut with an ergonomically designed...
Clippings can be discharged, mulched or bagged with a 9-bushel triple bag collection system...
High-back seat with armrests, foam-padded hand grips and vibration dampeners make mowing comfortable...
If you're a professional landscaper looking for a reliable machine, then you should try the Husqvarna MZ61. This zero-turn riding mower is a perfect choice, especially if you're doing large mowing jobs every day. It has a great build quality and is designed to tackle bigger lands.
It uses a power Briggs & Stratton motor that provides 27 HP to the cutting deck and hydrostatic drive. In addition, it features a 61-inch cutting deck which is the biggest mower deck you can get from these zero-turn lawn mowers. This makes it suitable for cutting lawns that are 5 acres or more in size.
The oversized fan and induction cooled motor ensure the machine remains cool even after long use. The cutting deck has a mid-range positioning for effective and fast turns. This model also provides a 9-bushel triple collection bag that allows you to collect all your trimmings.
Additionally, the ergonomic seat and long levers provide comfortability and ensure smooth movement on this zero-turn mower. This model also has a cutting height adjustment on the right side of the chair. You will have all whistles and bells on either side of the wheel.
It includes comfortable handgrips and a seatbelt to protect yourself in case things go out of hand. One of the outstanding features of the mower is the hour meter. This feature notifies you when service is needed, thereby reducing guesswork.
The motor is located under your set, which is convenient. This convenient positioning allows for easy access to the engine bay, and checking the oil level becomes a breeze. The large rear wheel arches on the tires and plenty of treads allow you to climb easily on flat surfaces.
2. Husqvarna Z254F 54" Kohler Engine Z-Turn Mower
This award-winning zero-turn lawn mower is an amazing choice for either a landscaper or an estate manager. It can be used to maintain lawns of up to 4 acres in size.
The Husqvarna Z254F model includes a Kawasaki 21.5 HP motor that is powerful enough to allow you to trim your grass properly. It comes with a compact design with a cutting deck underneath your feet and in the center of the mower. This cutting deck positioning ensures swift turns at all times.
Additionally, the Kawasaki engine has an Air Induction mowing technology that helps lift the grass, ensuring you get consistent cutting heights. The oversized cooling fan ensures the motor runs efficiently, even during long mowing jobs. The fan also supports the air induction system ensuring the lift gets enough power when working at any speed.
As one of the best zero-turn mowers, this riding mower is easy to operate. It comes with large handles that are easy to reach even while sitting. The seat is padded with an ergonomic design for maximum comfort. It offers support for your mid and lower back, ensuring you don't easily get tired when working on longer mowing jobs.
On either side of the seat, you will find gear levers and controls. You also get plenty of room to support your legs and feet and a traction pad at the front of the bay that prevents you from slipping when getting on or off the mower.
It features a 54-inch cutting deck and large rear wheels with treads to provide traction on slippery or steep surfaces. Although this machine comes with enough power and all the features you need to cut a 4-acre lawn, it is slightly underpowered and may not be the best zero-turn mower for everyday use.
3. Ariens 915223 IKON-X 52" Zero Turn Mower
Looking for the best budget zero-turn mower? The Ariens 915223 IKON-X Zero Turn Mower provides the best value for money, and it's affordable, making it a great choice for estate managers who only need to use the mower once or twice a week.
Its build quality is quite impressive and durable. The 23 HP Kawasaki engine gives you a hassle-free operation since it has plenty of power, even during inclines. This model also has a 52-inch cutting deck that can mow lawns of up to 4 acres. The cutting deck also has a durable design and construction with 12 gauge steel for extra durability.
The massive rear tires are air-filled and have plenty of grips and front casters that ensure you're always cutting within your line. Its control levers are in front of the driver's seat to ensure easy reach. The bars are adjustable, which means you won't have to get out of your seat when driving.
There are other controls found on either side of your seat around the wheel arches. The ergonomic and padded seat reduces the vibration from the motor, ensuring you have a comfortable ride. You also get adjustable armrests to reduce fatigue while finishing up your mower jobs.
This model has a rear load bay that you can use to pack your compost or gardening tools. There is a decent amount of legroom and also a traction pad that ensures you don't slip while getting on and off the mower. Although this model comes with plenty of performance, it is still not the best choice for professional landscapers.
4. Snapper 2691319 360z Lawn Mower, Zero Riding
Snapper 2691319 360z Mower, Riding, Zero Turn, Red
The integrated rear cargo bed makes this zero turn more versatile than ever before. Plus, the rails...
A fully-welded steel frame, thick-walled front axle, durable mower deck, and ball bearings in the...
High performance engine options mean you will have reliable Zero turn power Year after year.
A durable fabricated steel mower deck for non-stop mowing season after season. All fabricated decks...
The commercial-style foot-operated mower deck Lift easily lifts and adjusts the mower deck between...
Another favorite zero turn mower is the Snapper 2691319 360z Zero Turn Lawn Mower. This model has a powerful and robust 23HP Briggs & Stratton motor that gives enough power even for you to incline on wet grass. It comes with a Readystart technology that ensures a fast startup and faster turning of the ignition.
It also comes with adjustable and comfortable control levers to minimize operator fatigue. The comfortable grips also come in handy to minimize the fatigue you're likely to experience on your hands.
This zero-turn mower features a 48-inch cutting deck that can work on estates with lawn sizes of up to 2.5 acres. The foot pedal is also used to operate the cutting deck lift and also has a drop-in pin system to ensure it stays in place. You can easily reach the pin from your seat, and no unmounting will be required to adjust the height.
It includes a padded and ergonomic seat that supports your lower and mid-back. It also helps in dampening the vibrations that might be experienced by the machine during operation. You will get additional controls on either side of the seat.
The rear load bay allows you to transport all the gardening materials around. It comes with handles that help you move the machine and also comes in handy when you're carrying someone on the mower. To protect the rear-mounted engine, there is a crash plate that prevents any damage in case you accidentally crash on something.
5. Ariens 991157 Apex 60 Riding Mower, Zero Turn Radius
This is another high-quality zero-turn mower designed to last for very many years. The Ariens 991157 Apex 60 Riding Mower, Zero Turn Radius, comes with sturdy features and a massive 60-inch cutting deck for larger lawn trimming jobs.
This wide cutting deck mount also means that you can finish mowing a 4-acre lawn in about an hour, making it one of the best zero-turn mowers on the market when it comes to performance.
It features a reliable 25HP Kohler 7000 series HD V-Twin motor that provides lots of power to the air-filled tires. This provides you with more traction when climbing slopes or mowing on wet grass. Furthermore, the hydrostatic transmission provides the right balance of power between the rear wheels and helps reduce the servicing intervals.
This model comes with a plush and comfy seat as well as two adjustable level bars that are positioned right in front of you for easier use of the machine. The armrests on this machine also help reduce operator fatigue when mowing.
In addition, the model of foot bay provides you with plenty of room for your legs. There is also a traction pad at the front of this zero-turn lawnmower to help you get off and on the machine without slipping. Since this mower provides a comfortable ride and plenty of power, it is a perfect option for professional landscapers to mow on large estates or golf courses.
6. Swisher ZTR2454BS Zero Turn Mower
Swisher is widely known to produce high-quality machines, and it's a favorite brand for many landscapers around the world. The Swisher ZTR2454BS Zero Turn Mower is one of the best zero turn mowers from the company, and it has the ability to mow up to 3 acres of lawn.
Unlike other models that have levers positioned in front of your seat, this Swisher model has them at the sides. The shorter levers feature comfortable, soft, and ergonomic grips that help minimize fatigue on your hands.
The 8-gallon fuel tank capacity ensures a long run time in between fills. You get a foot lift with this machine that allows quick maintenance after mowing and a smooth movement of the cutting deck. This makes it a perfect choice for landscapers who work on different estates every day.
It features durable construction and design, which means you get a long service life with this machine. However, it doesn't offer great value for money, unlike other zero-turn lawn mowers on this list. But if you're a fan of Swisher mowers, then this is the best mower the company offers.
Types of Zero Turn Mowers
There are two major categories of zero-turn mowers divided based on size, utility, and power.
1. Commercial Mowers
If you're planning to mow a very large area or you have several large yards to mow regularly, then a commercial zero turn mower is the perfect option. Unlike residential mowers, these mowers are much more powerful and come with large cutting decks to mow much faster.
However, commercial zero-turn mowers are more expensive than residential mowers. In addition, you will need to pay for more fuel when it comes to a gas-powered model. The commercial mowers are not available in battery-powered or electric-powered options because of their size and the power needed.
2. Residential Mowers
Residential zero-turn mowers are less powerful and smaller than commercial zero-turn mowers. They can either be electric-powered or gas-powered mowers. However, gas-powered mowers are more popular and offer a wider variety of options.
Residential zero-turn mowers are designed for yards that range from 1/3acre up to 4 acres. However, they struggle when it comes to steep inclines and very rough terrain. Despite this, residential zero-turn mowers are easier to use, less expensive, and more fuel or battery efficient.
What Do You Look For in the Best Zero Turn Mowers?
1. Motor Power
When it comes to mowing any type of lawn using a zero-turn mower, the power of the zero-turn lawn mower engine makes a huge difference. Since most zero-turn mowers have large cutting decks, they need a powerful motor to drive the blades and also give nice and clean cuts.
Most models will come with powerful engines rated at 25 HP. However, there are some models that have 20 HP, which can be a waste of time, especially for commercial users. This is because they will either burn out after extended use or result in an unattractive lawn with high spots and uncut grass.
If you're a contractor working on golf courses and large estates, the best zero-turn mower should provide at least 24 HP of power from the motor. This ensures you get efficient operation and extended service life from the machine. Remember, the bigger the job, the more power you need.
2. Transmission
While looking for your best zero-turn mower, it is a good idea to find a model that offers hydrostatic transmission. A hydrostatic transmission uses hydraulic fluids to send power to the drive shafts.
Models with dual hydrostatic transmission can survive in even the toughest working conditions and don't easily burn out even with extended use. In fact, you get lots of power and an efficient clutch that won't need servicing as much as a zero-turn mower with a regular transmission.
3. Cutting Deck Width
While having a powerful motor and great transmission on your best zero turn mower is amazing, you need to balance that using the perfect cutting deck to achieve optimal performance.
Most cutting decks will have widths ranging between 42 inches and 61 inches, depending on the model. If you're a professional landscaper who uses a zero-turn lawn mower for large mowing jobs, then you need to find the biggest cutting deck.
Zero-turn lawn mowers with a 61-inch cutting deck will have nearly 50% more cutting width compared to a 42-inch cutting deck. This means if you use a 42-inch zero-turn mower on a golf course, you could end up doing the job for lots of hours.
However, if you're mowing lawns that are less than 3 acres, then a 42-inch cutting deck might be a perfect option for you. For lawns that are 4 to 5 acres in size, the best zero turn mower needs to have a 52-inch cutting deck, while anything larger than 5 acres requires a 61-inch cutting deck for best results.
While it looks like getting the largest deck size is the best option, this can also be counterproductive. You need to consider if there are obstacles that may make it difficult for the mower to move around. If there are so many obstacles, then you will be better off using a smaller deck so that you can maneuver around the objects.
4. Fuel Tank Capacity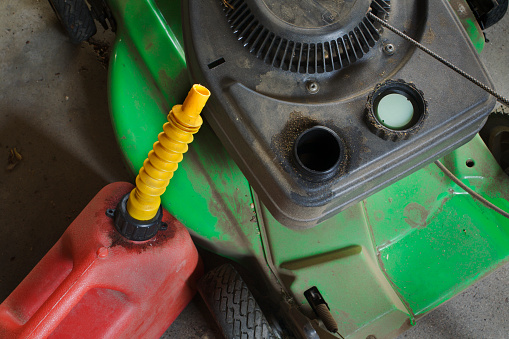 To determine the range of a zero-turn riding mower, the capacity of the fuel tank is an important factor to consider. You don't want to keep refilling your zero-turn riding mower every now and then. Therefore, choosing a model that has a large fuel tank is crucial, based on how big your lawn is.
For instance, if you'll be working on golf courses and large estates of above 5 acres, then you should consider getting a fuel tank capacity of 10 gallons. For a lawn that is 4 acres, then an 8-gallon fuel tank is recommended. For anything less than 3 acres, a 5-gallon tank will be sufficient.
Before starting your zero-turn riding mower, it is important to check the gas level and ensure it is filled with fresh gasoline. Additionally, check the fuel filter if there are any signs of dirt or blockages and clean or replace the part.
When it comes to storage, ensure you drain all the fuel from the tank, especially during winter. Leaving the fuel in the tank for several months will only damage the fuel lines and carburetor of your zero-turn mower. Also, you might find it challenging for the machine to start the next time you want to use it.
5. Engines
Zero-turn mowers will either come with a single-cylinder engine or a twin-cylinder engine. Single-cylinder engines are less fuel-efficient and are more susceptible to more vibration, which means they can be very loud.
On the other hand, twin-cylinder engines are more fuel-efficient and durable than single-cylinder engines. They reduce the vibration, and that is why they are considered a better option for frequent mowing. However, they are sold at a higher price.
6. Battery Life
Battery power is only applicable to electric mowers and is more dependent on other factors. Such factors may include the type of terrain, the weight, the tire treads, how the money is driven, and the age of the zero-turn mower.
Most often than not, the battery life of zero-turn lawn mowers is expressed in ampere-hours (aH), with a typical range of between 75 to 100 aH. Yards with 2 acres or less are recommended 75 aH. Some 100 aH batteries can mow up to 3 acres of lawn on a single charge.
7. Levers and Controls
The above zero turn mowers reviews have shown that controls are also something you shouldn't ignore, especially if you want more comfort.
Find models with ergonomic and comfortable controls to reduce fatigue during use. In addition, the controls and levers should also be soft and ergonomic grips for efficient operation. You should be able to change the settings of the machine without moving too much.
9. Weight
Generally, zero-turn riding mowers are heavy devices that weigh up to 700 pounds, depending on the model. With small models, you will just need to turn the mower on the side for easy cleaning of the deck. However, with large models, you will need a jack to access below the cutting deck.
10. Digital Displays
Models that come with digital displays show you the operating rpm and the height setting of the cutting deck. The displays help in changing the operating parameters without unmounting the cutting deck or inspecting the settings manually.
11. Tires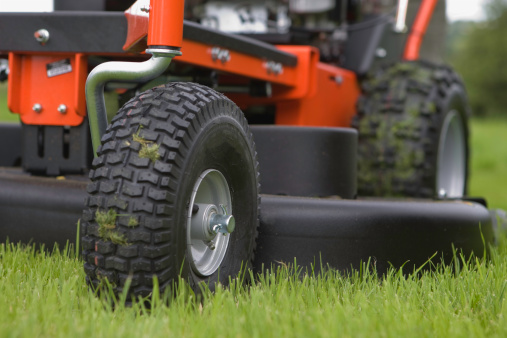 Most zero-turn mowers, if not all, come with air-filled tires, similar to what you'd find on a go-kart. Ensure the tires provide plenty of tracks, and if you're cutting wet grass, you need to have a model with treads for vest results.
12. Seat
Another important feature of the zero-turn mower is the seat, especially if you will be mowing large lawns. Therefore, it is important to find a model that has an ergonomic design and sufficient padding to the death. This helps reduce fatigue, especially when mowing large lawns.
13. Safety Features
Remember to check the safety features of your best zero-turn mower before buying one. Many manufacturers will include safety features like;
Headlights- These allow you to finish the job even after the sun has set. It ensures you can see properly.
Automatic Shutdown- This feature will turn off the mower when it senses you're no longer using it or on the seat. It ensures the mower won't continue operating when you fall accidentally or leave the seat to move an obstacle.
Parking Brakes- This feature comes in handy when mowing sloppy land. It protects you when you need to get off while mowing.
Gas Powered Vs. Electric Mowers
Although gas mowers are more popular, recently, electric mowers have been developed and are a great alternative for smaller yards.
Gas Powered Zero Turn Mowers
Since gas-powered mowers are much more common, they come in a wide range of prices. These zero-turn mowers tend to be more powerful than electric ones. However, they weigh more and need constant gas refills.
Electric Powered Zero Mowers
This is a relatively new innovation, and most of the electric mowers on the market are priced at a similar price with mid-range gas-powered zero mower turn mowers. They are not as powerful as a commercial gas zero-turn mower but have comparable power to a mid-range gas-powered residential zero-turn mower.
In addition, you get to operate without emissions, and you also won't ever need to pay for gas. Keeping your batteries charged is all your will need to do.
How Do You Maintain Zero Turn Mowers?
There are a few things you can consistently do to ensure your residential zero-turn mower or commercial mower serves you for long. They include;
Ensure your blades are sharpened at least two times a year, depending on how frequently you mow.
Ensure all the tires have the same air pressure and height.
Regularly check the air filter, oil, and spark plugs and replace them if needed.
Clean the mower deck after every use to prevent dirt and grass clippings from building up, which can cause significant damage.
Store your lawn mowers in an enclosed space to shield them from rain, snow, or extreme sunlight.
Lawnmower Tractor Vs. Zero-Turn Mowers?
Both lawn tractors and zero-turn mowers have their pros and cons, depending on the situation. Ideally, zero-turn mowers are designed for medium to large yards with a lot of curves but fewer inclines. They are faster to operate, unlike a lawn tractor, but the controls may need some time to master.
On the other hand, lawn tractors come with controls similar to a car. This means that they are relatively easy to master. However, a lawn tractor might be unable to make sharp turns but are better off when it comes to inclines.
Frequently Asked Questions (FAQs) on Zero Turn Mowers
1. How do I steer a zero-turn mower?
By moving the control levers. Both levers will ensure you're moving forward in a straight line. However, if you pull one lever back, it decreases the power of that wheel, and the other side retains the power. This difference in output makes the mower turn.
For a zero-degree turn, you should only use one lever. This makes only one side of the mower to be powered while the other one turns in place to ensure the mower can fully rotate in its own footprint.
2. Do zero-turn mowers have brakes?
Unlike other types of riding mowers, zero-turn mowers don't have a braking system. The levers on the side help control the movement of the machine. So, if you want to stop or slow down, you just need to release the pressure from the lever.
The more pressure you exert on your lever, the faster your machine will move. If you need to reverse, then all you have to do is pull back on the lever. These levers give a turning circle that spins the mower around, providing a 0-inch turning circle that ensures you stay on your cutting line.